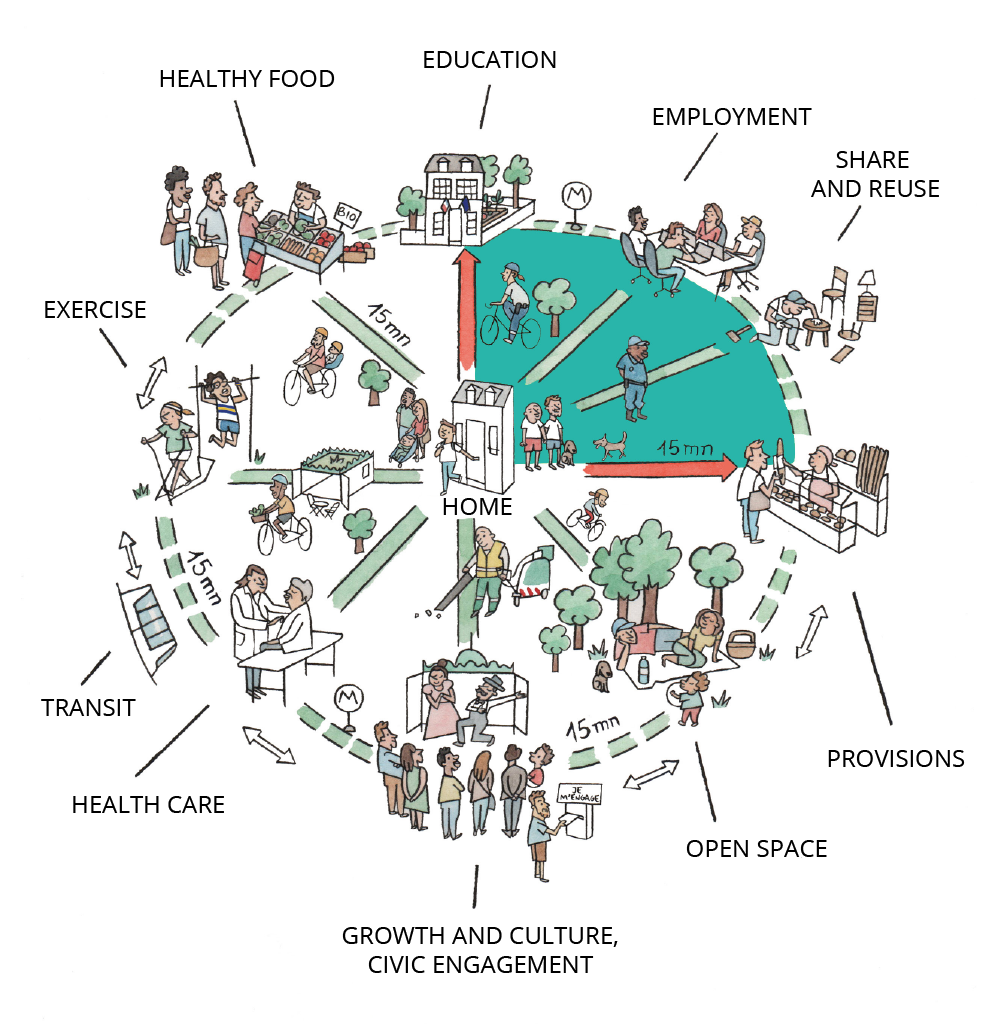 Translated version of Paris' 15-minute city diagram (Le Paris du quart d'heure, 2020)
15-minute city resources
Free Streets Manifesto (2023-03-17) has a charming graphic and renderings for 15-minute cities.
(2022-05-17) 15-minute cities at a high level within our oganization, everyone agrees that 15-minute cities create tremendous value, and that value has to be shared equitably. Also, to the extent that 15-minute cities means access to services, a better definition of what those services are is important.
Cleveland Mayor hops on the 15-minute city bandwagon (2022-04-14)
MBTA Zoning & Complete Neighborhoods (2022-03-01): Massachusetts has passed a bill requiring high density zoning around transit stations and funded MHP to help plan and execute Complete Neighborhoods in those locations. In MHP's introduction to the program they reference using a 15-minute city lens.
Welcome to the X-Minute City (2021-07-15): Popup City, based in Amsterdam, does a round-up of 1-, 5-, 10-, 15-, 30-, and 1000-minute city concepts.
Order Without Design by Alain Bertaud (2018) and on his podcast (2020): Alain goes against the dogmatic application of 15-minute cities, calling them elitist because they could prevent people from the suburbs (where land is cheap) from accessing employment into the urban core (where land is expensive). He makes the case that, for Paris, eliminating driving lanes to build more sidewalks only helps the people who can afford a $1M house in the center, and disadvantages the workers coming in from the suburbs. That all being said, he is supportive of 15-minute cities for other amenities like open space and schools, but making employment opportunities harder to access is a potential negative impact that should be examined when looking at redistributing urban space for different users' transportation needs.
C40, Spotlight On: 15-minute cities (2021-05-15): A group of one introduction and four content articles about the benefits of 15-minute cities and some implementation guides.
CityLab, Where the '15-Minute City' Falls Short (2021-03-02): "Urban experts warn that a popular post-pandemic design principle may not translate well from Europe to North America, and could exacerbate inequality." The critique is centered on historic inequity and the threat of gentrification, not the merits of compact, mixed-use cities. This could a "yes, and" rather than "no" piece, but I imagine the framing is inspired to get clicks.
CNU, Defining the 15-minute city (2021-02-08): Authored by DPZ, this article gets into the issue of translating 15-minute travel times into multiple travel modes, including walking, biking, transit, and electric transportation, and what that means for service areas.
YouTube, Carlos Moreno explains the 15-minute city (2021-01-25)
Bloomberg, 15-minute city (2020-11-12)
Paris to 'get rid of 70,000 parking spaces' (2020-10-21): Squeeze on cars continues in '15-minute city' under Paris mayor Anne Hidalgo. In her election night victory speech she told supporters: "You have chosen a Paris that can breathe."
CNU, Memphis 3.0 Comprehensive Plan article (2020-07-21): Planning for long-term growth around community anchors for efficiency and walkability is related to the 15-minute mission.
C40, How to build back better with a 15-minute city (2020-07): Governance-related advice for taking steps towards
15-minute city predecessors
Plan Melbourne, 20-minute neighborhoods (2017): Preceding Paris' 15-minute city, this methodology looks at neighborhood amenities.
Portland Climate Action Plan - Complete Neighborhoods (2015): Considers the need for residents to access basic needs by foot or bike within 20 minutes.
---
2023-03-17