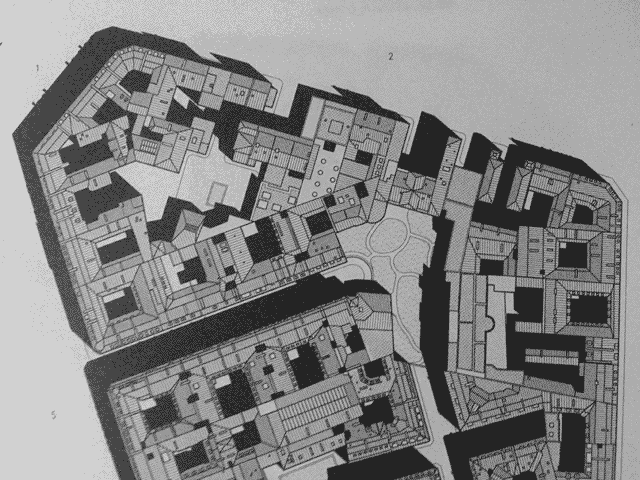 Breaking down Haussmann's Paris
Book review of Haussmann's Paris: A Model's Relevance. Benoit Jallon, Umberto Napolitano, and Franck Boutté. Park Books; Bilingual edition, 2017.
I enjoyed exploring the depth of analysis and modern reinterpretation of Haussmann's city in this tome. The editors' craft reflects a true labor of love. As an urban designer, I admire the way in which they consider the forms and functions delivered by this dramatic period of development in Paris' history and the book's stunning original drawings and immaculate representation. I'll take a moment to share information about the book and my takeaways for guiding a new generation of urban design.
The book's table of contents starts with a look at Paris through several lenses, including historical context, Keven Lynch's "imageability", resilience, and sustainability. From there, it moves onto a typological analysis of street networks, public spaces, blocks, facades, down to ornamentation. Finally, the book concludes with a comparative performance analysis across several measures, including density, solar access, and flexibility of reuse. Having Haussmann's language for Paris on hand, from streets to civic spaces to buildings to floor plans, is immensely useful as private vehicles and their associated dimensional requirements recede from our cities in favor of a return to walking and biking, and the introduction of new forms of movement.
The author's attempt to explain the relevance of Haussmann's Paris was successful. I found several anecdotes in the text that I hope to port into my own urban design practice. I'll summarize a few below:
Haussmann's blocks lend themselves to flexibility and reversibility of uses by maintaining the same floor height and principal facade lines throughout the block. Compatibility between party walls across parcel lines was established by setting floor datums in deeds.
The primary unit of construction was an "investment property" building, a 5–7 story mixed-use multifamily development with about 15 meters (50 feet) of street frontage and party walls. Each block consists of several properties built over a period of time by various owners and architects, leading to a diversity of facades within a given framework.
Today's 5-over-1 concrete and stick-built complexes could learn from the subtle yet important differences each level affords. Haussmann's typical buildings are vertically mixed use, with the following basic program per story:

(1) ground floor commercial space
(2) mezzanine for commercial space
(3) residential with the highest ceiling height, typically 3.9 meters, 13 feet
(4–5) residential with typical ceiling heights
(6) residential with lower ceiling heights and a contiguous balcony
(7) mansard roof residential.

Buildings are typically very narrow and have high ceilings and party walls that create a compact form and deliver air and light into living spaces. Light is also delivered to bedrooms and living rooms by orienting secondary and service functions away from primary courtyards.
Primary streets like Boulevard Montmartre have wider sidewalks (8.9 meters, 30 feet) than would commonly be applied today.
Secondary streets like Rue Saint Lazare have narrower sidewalks (4 meters, 13 feet), but almost no street furniture, signs, or light poles blocking the way. Street lights are building mounted.
Tertiary streets (or ways) like Cité d'Angoulême are for access into blocks and have a domestic atmosphere. Sometimes they do not have sidewalks.
Monumental public buildings should frame primary and secondary civic spaces, and the area of the civic space should roughly match the footprint of the public building.
I'll leave you with a link to an "exceptional" block noted by the editors, at the intersection of Rue Eugène Sue and Rue Simart. This block was an open field that was intentionally crisscrossed by two streets and subsequently subdivided along spines forming three deltas and a kite. The intricate network of human-scaled built and open spaces is an inspiration for me to move beyond heuristics (such as a minimum courtyard dimension of 50 feet) that lead to repetitive results.
This book was informative about the lasting effects of Haussmann's design decisions, including the design guidelines and restrictions he used as a tool with the developers at the time to achieve his vision of the city. I recommend anyone interested in urban morphology and city-making to seek out a copy.
---
2022-01-28. Created sometime in 2019.