Notes on creating a DIY solar-charged portable DC power station
This project started when I recovered a big lithium battery from a broken/abandoned eScooter and solar panels from broken temporary street lights from the streets around me. The objective was to create a portable DC power station for charging laptops, USB devices, and portable refrigerator offgrid or as a backup during a grid blackout.
I purchased $105.94 in materials to make this happen, and invested lots of my time in learning, testing, and building the enclosure. Theoretically, I could reuse those materials in future projects if I decide to dismantle this. Without counting labor, the price comes down to about $0.11 per Wh (watt hour), which is a lot better than $1.10 per Wh in commercial options.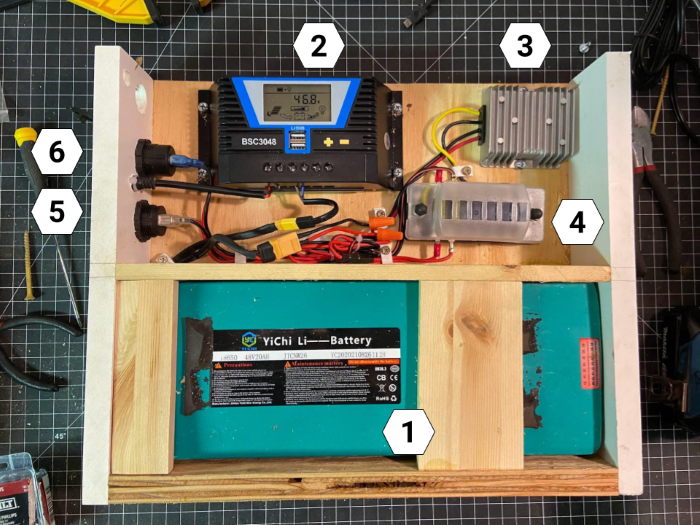 Portable power station components, using scrap plywood and clear acrylic for the housing:
Scrap YiChi Li Battery 18650 48V 20Ah JTCNW26 YC202108261128: recovered from broken and abandoned Dagway eScooter, with XT60 connections, 960Wh capacity
30amp Charge Controller, PWM Solar Controller 30A Solar Power 48V Lithium: set to "3.7-7" per guidance received from the manufacturer
DC Voltage Regulator Buck Converter DC 48V Step Down to 24V 10A 240W: to step down from 48V to 24V
12 Volt Cigarette Lighter Socket: for running a 12V fridge or other function
83W Laptop Car Charger Socket 12V USB Outlet, USB-C, 18W QC3.0 Outlet: for charging laptop with USB-C
Testing the panels wiring in series: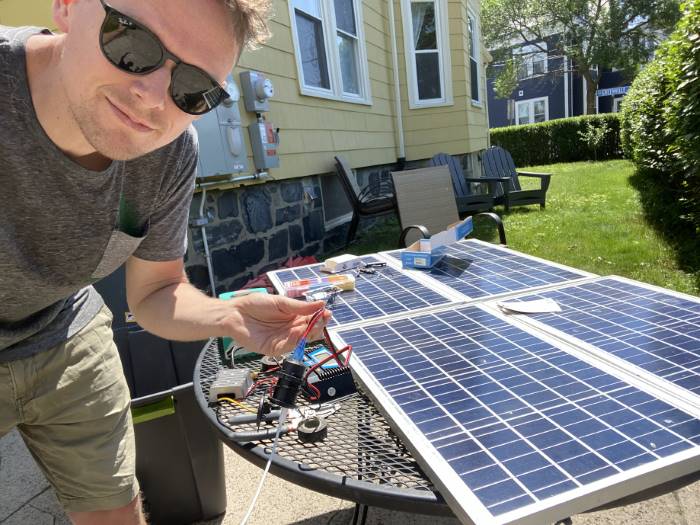 ---
Created 2023-07-05